Contact Art Cameroon in Africa and in USA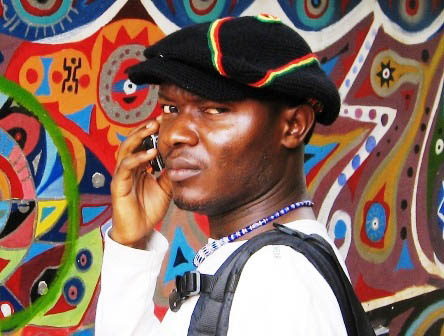 Please use the Contact Form below. We welcome your inquiries and comments.
If you like, you can phone/text Angu Walters directly. WhatsApp works, too.
+(237) 677 660 671
Or use Angu Walters' personal Facebook page.
Cameroon is in the West Central Africa time zone: GMT+1 (six hours ahead of Eastern Standard Time). So, please phone early in the day if you're in the Americas.
Or phone USA website administrator Chuck Cavanaugh 702-879-8371
If you'd like to purchase a painting using Zelle then direct your payment to the phone above or we can send you a money request.
• Details of how we will conclude your purchase may be found lower down this page.
How we will conduct your purchase
IN ALL CASES your payment will be held by the web site administrator until your painting reaches you safely and you express satisfaction.
We offer free shipping anywhere.
PayPal is not available in Cameroon. If you want, you can wire money directly to the artist, but nobody does that except occasionally some repeat buyers. You want to use PayPal, with the money passing through the website administrator's account. PayPal Buy Now buttons appear throughout the site.
ADDRESS NOTE: Original paintings are insured. Somebody will be expected to sign for the delivery so it might be a neighbor or workplace. Whatever. If they don't find anybody available, you might need to swing by your local Post Office.
If you want a proper invoice, either before or after you purchase something, just ask.
If your painting is coming from the USA, it will be go out  immediately by USPS Priority Mail. You will be provided tracking information. When the painting arrives, please let us know that all is well. Your satisfaction is guaranteed. (Nobody has ever been unsatisfied.)
At that point, all the money – minus only the cost of PayPal fee, mail, and insurance – will be wired to the artist.
*The web site administrator keeps no money. (but my walls are fabulous)
**Some USA paintings have been digitally scanned. If you choose one of those, we'll make available to you, at no cost, the very large digital file for download. You can use it to print copies for friends/family if you want. Simply share the link or file with your local print shop. They'll know what to do.
Purchase paintings directly from the artist in Cameroon
Shipping is normally done through DHL which can be used with perfect confidence (and with insurance). The price listed on paintings delivered directly from Africa includes your delivery cost.
• If you may be interested in the purchase of two or more paintings, you are welcome to contact us and we'll happily offer you a discount.
CIVIL WAR: Your painting(s) will ship as soon as possible but never on a Monday. Mondays are "Ghost Town" day and anyone seen on the street may be shot. Other shutdowns have have been ordered by rebel armies for up to two weeks at a time. Power outages are frequent. Some delay is sometimes very unavoidable. Google: Ambazonia